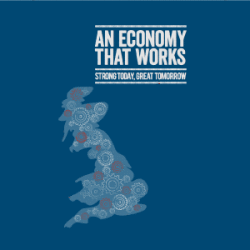 #AnEconomyThatWorks
Tim Jackson joins advisory board of ambitious new Aldersgate Group coalition
The Aldersgate Group has launched an ambitious new campaign to set out a new macro-economic roadmap for the UK – for #AnEconomyThatWorks
Established in 2006, the Aldersgate Group is an alliance of leaders from business, politics and civil society whose common mission it is to drive action for a socially successful and sustainable economy, and trigger the change in policy required to address environmental challenges effectively.
The coalition involves some of the UK's most well-known companies (such as BT, Aviva and Kingfisher) and will work with the UK government over the coming years to identify the key policy levers for change, support their adoption, and encourage wider uptake of innovative business practices that are needed to guarantee prosperity for everyone across the UK economy now and in the future.
Oliver Dudok van Heel, Director of An Economy That Works said : "Our coalition wants to see an economy that works harder for our society and our environment. Many of our member companies are championing best practice and progressive social and environmental policies that will keep our economy in the fast lane. This campaign is an ambitious attempt to draw these strands together into a joined – up roadmap for policy makers that will help insulate UK society from future economic shocks."
Tim Jackson is joining the coalition in an advisory capacity. Other advisory group members include Jamie Arbib, Mariana Mazzucato, Frances O'Grady and Jonathon Porritt.
Related links
#AnEconomyThatWorks on Twitter